Blog
Three Pieces of Advice on Advancing Your Dental Hygiene Career

"Figure out who you want to be…don't get stale. Remain passionate!"
It goes without saying that dental hygienists are the lifeblood of any dental practice. Without the hygienist, it would be impossible to operate a successful dental practice.
Hu-Friedy has a long history of supporting dental hygienists. For over 40 years, we have sponsored the Golden Scaler Award at dental hygiene programs around the world to honor the importance of the profession and recognize outstanding students at participating programs.
Over the years, the many Golden Scaler Award recipients have gone on to successful careers in dentistry and in some cases have become educators, researchers, entrepreneurs, and industry leaders. In honor of National Dental Hygiene Month, we profiled three former Golden Scaler Award winners and asked them to share some advice and tips that have helped them advance their careers.
---
Brienne Lake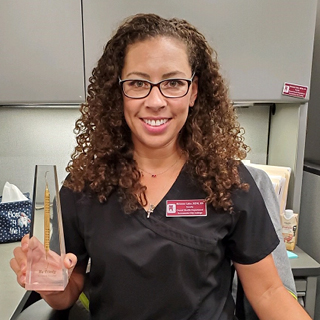 Year of graduation: 2008
Santa Rosa Junior College – Santa Rosa, California 
Reflections from dental hygiene school:
Brienne was a communications major at California State Los Angeles, and she was one year short of graduation before switching to dental hygiene after having dinner with a dentist friend who said, "You would be a great hygienist!" So, Brienne switched gears and applied to several dental hygiene programs in Northern California. Shortly into her program at Santa Rosa Junior College, she knew it was absolutely the right career choice. 
"What I loved about dental hygiene school was it was nice to be in an environment where everyone was learning the same thing at the same time," said Brienne. "That helped me stay focused and be successful. We had so much fun. Lots of friendships made."
Award moment:
"It was so nice to be recognized at graduation. I worked so hard in dental hygiene and I wasn't sure if my faculty noticed. One of the things I stressed about was time and time management in the clinic. I put pressure on myself to finish and be on time. It was really nice to be recognized."
Where is she now?
After graduation, Brienne worked for a great doctor in Napa, CA for seven years. The office manager was the dentist's wife and a dental hygienist. She was a significant mentor to her – helping her stay on time and work through perio charting faster. Eventually Brienne wanted to start planning for teaching in a dental hygiene program.
After 10 years of clinical practice, she went back to school and completed her BSDH in 2019. Brienne shares, "I am now teaching first year dental hygiene students at Sacramento City College – and I love it! I love learning about each individual. I'm very maternal with them…I just care with all of my heart."
Advice/tip:
"If you are thinking about teaching and you don't automatically receive your bachelor's degree with your dental hygiene degree, consider how and when that will fit into your future life. I'm glad I waited to get my advanced degree, as I was more mature and had 10 years of clinical experience, so the additional education had deeper meaning to me."
---
Saori "Sara" Hara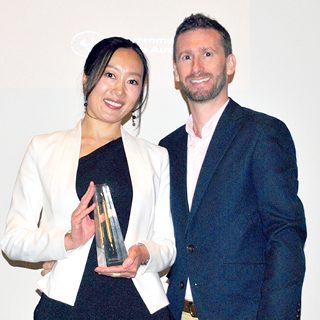 Year of graduation: 2018
TAFE South Australia – Adelaide, South Australia 
Award moment:
"I could not believe I was nominated! At the same time, I felt rewarded for all of the effort that I put into my studies. Winning the award gave me a boost in confidence, and I also felt a sense of validation"
Where is she now?
Sara graduated from Tsurumi University, Department of Dental Hygiene, in Kanagawa Japan in 2002 and worked as a hygienist in Japan before she immigrated to Australia. Because her Japanese hygiene license did not transfer to Australia, she had to return to hygiene school. She received an Advanced Diploma of Oral Health (Dental Hygiene) from TAFE SA, which is where she was presented with the Golden Scaler Award. Sara continues to live in Australia and works full-time as a dental hygienist in a periodontal and implant private practice in Queensland.  She is most passionate about building long-term relationships and contributing to a person's oral and systemic health and their overall well-being.
Advice/tip:
"Believe in yourself and keep trying. Your hard work will definitely pay off! It always seems impossible until it's done! Also, build long-term relationships with patients. My role as a dental hygienist has enabled me to meet people from all aspects of life."
---
Carol Hatrick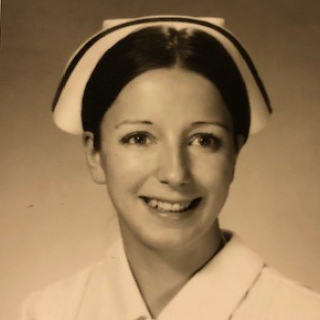 Year of graduation: 1976
University of Michigan School of Dentistry, Dental Hygiene – Ann Arbor, Michigan
Award moment:
"It was a complete surprise! I didn't realize it was a national award given to dental hygiene graduates. Initially, I thought it was just an award at U-M because of Hu-Friedy's relationship with Dr. Clayton Gracey, a dentist and educator at the dental school. The impact of the award gave me the confidence to move forward and hold my head a little bit higher."
Where is she now?
After graduation, Carol worked for a year before getting recruited to Sydney, Australia to become what was called at that time a New Zealand Dental Nurse. It was an 18-month program to train their cohort of eight to learn anesthesia and place amalgam and silicone cement fillings on school age kids. After returning to the United States, Carol moved to California and began teaching in a dental assisting program north of San Francisco.
In 1986, she graduated with a master's degree in Education. In 1996, she began writing a dental hygiene curriculum program, and the first cohort started in 1999. Carol has had a very successful hygiene career, and as an educator she has had the honor of presenting the Golden Scaler Award to her students for nearly two decades. She will be retiring her "dental hygiene cap" at the end of the year and looking forward to traveling the world.
Advice/tip:
"Figure out who you want to be. If you want to be an educator, a higher learning degree is likely required. If you want to be an outstanding clinician, take enrichment programs, learn how to better communicate with patients, and remain very clear and current in evidence-based learning and continuing education courses. Also, figure out how you want to practice and find courses that serve you best. Don't get stale. Remain passionate!"
Acting on Advice
As the experience of these Golden Scaler recipients show, education doesn't end at graduation, and whether you're a recent graduate or an industry veteran, there's always room for professional growth.
Knowing where you want to go in your career and having a plan to get there is a great first step, but even if you are unsure what the future holds, staying connected to the hygiene community is a great way to start developing your plans.
Whether you're a Golden Scaler Award recipient or not, Friends of Hu-Friedy is an excellent resource for connecting with your peers, learning from their experiences, and sharing your own personal advice.