Instrument Management System - HOW DOES IMS WORK?


HOW DOES IMS WORK?
IMS saves time by pre-sorting and organizing instruments by procedure. Once configured, the instrument set-up remains complete throughout instrument reprocessing, from cleaning to sterilization to storage. Instrument cassettes are placed directly in both ultrasonic washers and sterilizers, virtually eliminating the need to hand scrub while reducing the risk of potential sharps injuries.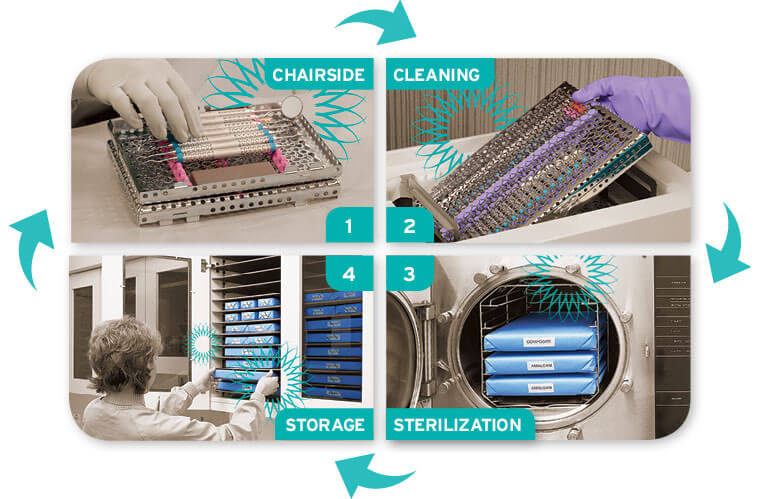 CHAIRSIDE: Patient Preview & Presentation – Systematically organize instruments according to procedure type, allowing for more focus on patients and less time spent looking for missing instruments. Neatly organized instruments offer more professional appearance and can help enhance referrals.
CLEANING: Processed & Prepped – Instruments are kept together throughout cleaning, rinsing and drying, minimizing the potential for breakage or loss. This also minimizes handling of instruments, reducing the chance for a sharps injury, which on average cost a practice $3,000.
STERILIZATION: Wrapped & Ready – Complete procedures are packaged in IMS Sterilization Wrap and placed in an autoclave together to help reduce consumable usage. This reduced handling of instruments provides safer protocol and minimizes liability.
STORAGE: Neat & Complete – Ready for use or storage until needed for increased time savings. The complete procedural set-ups provide for easy set-up and teardown.
Most IMS offices have identified a savings of 5 - 10 minutes per procedure.
CLICK HERE to see where the time savings comes in or click on the image to the right.
DID YOU KNOW?
Using IMS greatly reduces the chance of a sharps injury which on average cost a practice $3,000*? (according to*"SHARPS INJURY PREVENTION WORKBOOK" page 6. CDC.)
Learn more about HU-FRIEDY'S COMPLETE CASSETTE offering!
ADDITIONAL RESOURCES