HUSAVE offers a variety of disposable products direct from Hu-Friedy. No more worrying about re-ordering or stocking bulky disposable products. The HUSAVE program has been designed to dramatically reduce the time you spend purchasing while saving you money in the process! Simply choose the product you would like to order, when you would like them to ship, and we will do the rest. We will ship the product as you indicated and bill you through your dealer of choice.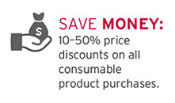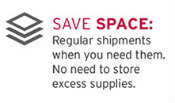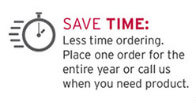 FREE SHIPPING: You receive free shipping* from Hu-Friedy on all orders over $100.
NEW PRODUCTS: New product categories so you can stock up on the products you need for your practice.
NO MINIMUM: With no spending requirement, it's easy to save big with the HUSAVE Program.
As a member of the HUSAVE program, you will receive discounts off regular retail pricing of 10-50% in the following categories:
download the
husave brochuredownload the
husave Price List
---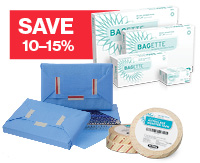 Sterilization Products
Monitor Tape
Chemical Indicators & Integrators
Sterilization Wrap & Pouches
Biological Monitoring System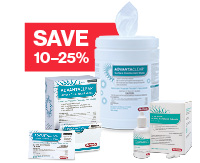 Cleaning and Care
Instrument Care & Maintenance
Dental Unit Waterline Cleaners
Hand Care
Surface Disinfectants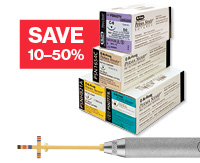 Surgical & Restorative
Sutures
Scalpel Blades
Chu's Gauges
Primary Stainless Steel Molar Crowns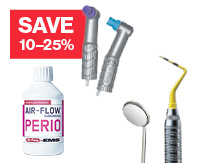 Hygiene Products
Disposable Prophy Angles
Mirrors
Disposable Probes
Implant Maintenance Scalers & Curettes
Prophy Powders
Piezo Tips
---
Enrollment Guidelines
Complete the HUSAVE sign-up form on Hu-Friedy.com/Rewards/HUSAVE or call 1-866-HUSAVE3 (1-866-487-2833) to enroll.
All orders are subject to acceptance and approval by Hu-Friedy and the designated authorized participating Hu-Friedy dealer.
Orders invoiced only through authorized, participating Hu-Friedy dealers. May not change dealer choice during calendar period. One drop ship address per order.
The HUSAVE program may be combined to cover multiple practice locations, but cannot be combined for multiple practices with different ownership.
Customer may cancel or modify their HUSAVE order at any time in writing by contacting Hu-Friedy. There is no need for annual renewal. Customer will continue to receive product as scheduled without interruption until canceled or modified.
Hu-Friedy reserves the right to modify or cancel the HUSAVE program at any time.
Orders with single shipments over $100 in retail value are eligible for free standard ground shipping courtesy of Hu-Friedy (48 contiguous United States only). All other orders, including those with expedited shipping terms, shipped F.O.B. Chicago and subject to shipping charges.
HUSAVE program is valid in the U.S. only and cannot be combined with any other program or promotional offers. Schools and institutional accounts are not eligible. Group practices and accounts receiving chargebacks or other discounts are not eligible.