Infection Prevention Products

Infection prevention is the cornerstone of every successful dental practice. While transmission of infectious agents and diseases in the dental setting is rare, it does happen, which is why it's critical to continually reinforce the importance of best practices and industry standards. 
Help create a culture of safety at your office with the following resources. From posters to guidelines to quizzes, HuFriedyGroup has the tools to help practices ensure patient and employee safety as well operate at optimal efficiency.
INFECTION PREVENTION RESOURCES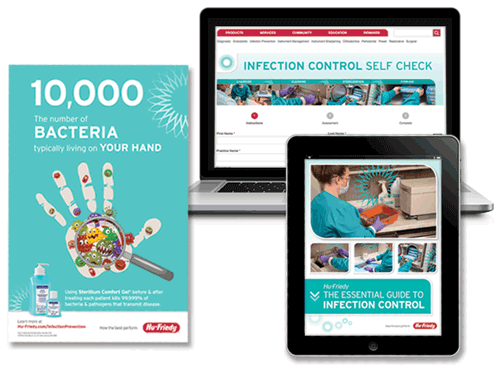 HUFRIEDYGROUP PRODUCTS 
Your trusted instrument manufacturer is also your trusted source for all products related to processing those instruments through the cleaning and sterilization steps. Everything you need for creating an efficient and safe reprocessing protocol is right here. Instrument processing is a key part of any office infection control program and must be performed properly to help ensure patient safety. Our full line of cleaning and sterilization products optimize staff and patient safety while maximizing office efficiency.
* This product kills the following organism in 2 minutes on pre-cleaned, hard, non-porous surfaces at room temperature: Mycobacterium bovis BCG (TB)