Continuing Education Programs & Webinars
Hu-Friedy is proud to offer dental professionals free continuing education courses through live hands-on programs and both live and on demand webinars. Additional educational opportunities are also offered through FRIENDS OF HU-FRIEDY and the GREENLIGHT DENTAL COMPLIANCE CENTER. Check out the free CE opportunities below and start learning!
---
WEBINARS
 
Hu-Friedy is committed to inspiring performance by uniting and educating dental professionals worldwide, which is why we are pleased to offer free live and on demand webinars that will help you perform at your best. All courses feature a renowned industry expert who specializes in the course topic, and offer 0.5 to 1.5 CE credits upon successful completion of a post-test.
---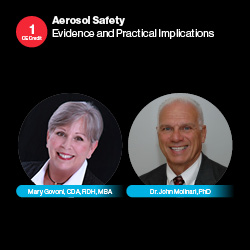 Aerosol Safety: Evidence and Practical Implications
Dental care has been impacted by the COVID-19 pandemic as routine procedures can cause airborne matter and fluid to be expelled from a patient's mouth. This session will provide a current update on the SARS-CoV-2 spread. Spatter, droplet, and aerosol particles will be discussed in the context of infection control challenges presented by aerosol-generating procedures.  Practical methods to reduce the production and risk of aerosols in the dental office will be examined. 
Available On Demand
Presenters: Presenters: Mary Govoni, CDA, RDH, MBA & Dr. John Molinari
Take the Course
---
On demand Webinars
Air Polishing

Dental Water Management

Managing Dental Waterline Compliance Through Treatment and Testing

take the course

Diagnostic

The Oral Cancer Screening Exam: The Urgent Need for Change!

oropharyngeal cancer jo anne joanne joann jo ann hpv oropharyngeal hpv

Presenter: Jo-Anne Jones, RDH

take the course

Instrument Management Systems and Infection Control

waterline waterlines infection prevention CDC infection control

Orthodontics

Drastic Plastic: Taming Aligners to Improve Predictability

Presenter: S. Jay Bowman, DMD, MSD

take the course

Clear Advantages and Innovations for Clear Aligners

clear collection

Presenter: DR. JAY BOWMAN, DMD, MSD

take the course

Efficiency and Compliance in Today's Orthodontic Practice

jacky CDC instrument reprocessing infection prevention infection control instrument management instrument management system IMS

Presenter: JACKIE DORST, RDH, MS

take the course

Periodontal

Restorative

Rubber Dam Dentistry Doesn't Get Any Better

Speakers: Joel H. Berg, DDS, MS & Timothy Hess, DDS, MAGD

take the course

Restoration to Preservation: A Collaborative Approach

restorative air polishing air abrasion powder implant

Speakers: Dr. Jill Hansen, DDS and Jodi Deming, RDH

take the course

Stainless Steel Crowns Indications and Techniques

pedo crown primary molar restoration restorative

Presenter: DR. JOEL H. BERG, DDS, MS

take the course

Surgical

Current Use of the Tunnel Technique Following 20 Years of Experience

Presenter: Dr. Edward P. Allen take the course

Dental Suturing for the Practitioner and Surgical Staff

Presenter: DR. LEE SILVERSTEIN, DDS, MS, FACD

take the course

Minimally Invasive Extraction Techniques

Presenter: DR. KARL KOERNER, DDS, MS

take the course

Friends of Hu-Friedy Education

Note: Additional educational courses and other benefits are available to our Friends of Hu-Friedy community. If you are not a member, you will be prompted to join.
Hu-Friedy Mfg. Co., LLC
Nationally Approved PACE Program Provider for FAGD/MAGD credit. Approval does not imply acceptance by any regulatory authority, or AGD endorsement. 6/1/2019 to 5/31/2022. Provider ID 218966.