Continuing Education Programs & Webinars

Hu-Friedy is proud to offer dental professionals free continuing education courses through live hands-on programs and both live and on demand webinars. Additional educational opportunities are also offered through FRIENDS OF HU-FRIEDY and the GREENLIGHT DENTAL COMPLIANCE CENTER. Check out the free CE opportunities below and start learning!
---
WEBINARS
 
Hu-Friedy is committed to inspiring performance by uniting and educating dental professionals worldwide, which is why we are pleased to offer free live and on demand webinars that will help you perform at your best. All courses feature a renowned industry expert who specializes in the course topic, and offer 0.5 to 1.5 CE credits upon successful completion of a post-test.
---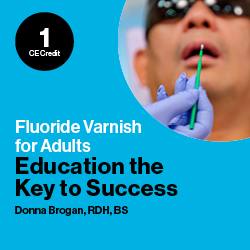 Fluoride Varnish For Adults: Education the Key to Success
Are you currently recommending fluoride varnish treatments for your adult patients? While research shows that fluoride varnish should be applied two to four times a year, we know patients typically decline this preventive treatment. The good news is, a combination of education, and caries risk assessment has been shown to increase patient treatment acceptance.
Available On Demand
Presenter: Donna Brogan, RDH, BS
Take the Course
---
On demand Webinars
Dental Water Management

Dental Unit Waterlines in the News Again: What You Need to Know

Presenter: Mary Govoni

take the course

Water In, Water Out: Total Water Management and Compliance in the Dental Office

Presenters: Matt Chandler, Product Manager, HuFriedyGroup | IIene Russo, Product Manager, HuFriedyGroup

take the course

Managing Dental Waterline Compliance Through Treatment and Testing

Presenter: Dr. John Molinari

take the course

Diagnostic

Probing the Depths to Enhance Your Clinical Results

periodontal probing periodontal assessment diagnostic exam probe

Presenter: Mary Jacks RDH, MS

take the course

Explore to Enhance your Clinical Results

periodontal assessment periodontal exam diagnostic exam explorer

Presenter: Mary Jacks RDH, MS

take the course

The Oral Cancer Screening Exam: The Urgent Need for Change!

oropharyngeal cancer jo anne joanne joann jo ann hpv oropharyngeal hpv

Presenter: Jo-Anne Jones, RDH

take the course

Instrument Management Systems and Infection Control

Orthodontics

Drastic Plastic: Taming Aligners to Improve Predictability

Presenter: S. Jay Bowman, DMD, MSD

take the course

Periodontal

Restorative

Rubber Dam Dentistry Doesn't Get Any Better

Speakers: Joel H. Berg, DDS, MS & Timothy Hess, DDS, MAGD

take the course

Stainless Steel Crowns Indications and Techniques

pedo crown primary molar restoration restorative

Presenter: DR. JOEL H. BERG, DDS, MS

take the course

Surgical

Current Use of the Tunnel Technique Following 20 Years of Experience

Presenter: Dr. Edward P. Allen take the course

Dental Suturing for the Practitioner and Surgical Staff

Presenter: DR. LEE SILVERSTEIN, DDS, MS, FACD

take the course

Minimally Invasive Extraction Techniques

Presenter: DR. KARL KOERNER, DDS, MS

take the course
---
Hu-Friedy Mfg. Co., LLC.
Nationally Approved PACE Program
Provider for FAGD/MAGD credit.
Approval does not imply acceptance by
any regulatory authority, or AGD endorsement.
The current term of approval extends from 6/1/2022 to 5/31/2026.
Provider ID# 218966