Hu-Friedy's Stainless Steel Molar Crowns

Stainless Steel Crowns
No matter what patient walks through your door, HuFriedyGroup has you covered more than ever before. Introducing HuFriedyGroup Stainless Steel Permanent Molar Crowns! Designed to deliver all the features and benefits you love of our Pedo Crowns so that you can take care of all your littlest patients with ease.
THE PERFECT FIT FOR ALL YOUR NEEDS
HuFriedyGroup Stainless Steel Molar Crowns are the perfect fit for you and your patients! Our primary and permanent molar crowns were developed to deliver consistent, accurate and predictable clinical results.
Pedo Crowns have a narrower mesial-distal maxillary first molar width for quicker adjacent crown placement
Accurate occlusal anatomy that mimics the natural tooth
Ideal wall height meaning less trimming and crimping (if at all!)
Pre-trimmed, crimped and contoured surfaces for less time spent chairside
Accurate occlusal anatomy mimicking the natural tooth
Optimal occlusal thickness with superior resilience to abrasion and perforation
---
INTRO KIT
Pedo Crowns Introductory Kit contains 48 crowns (1 of each size) MSRP $267.09
Permanent Crowns Introductory Kit contains 24 crowns (1 of each size)
MSRP $132.00
Permanent Crowns Master Kit contains 96 crowns (4 of each size)
MSRP $582.00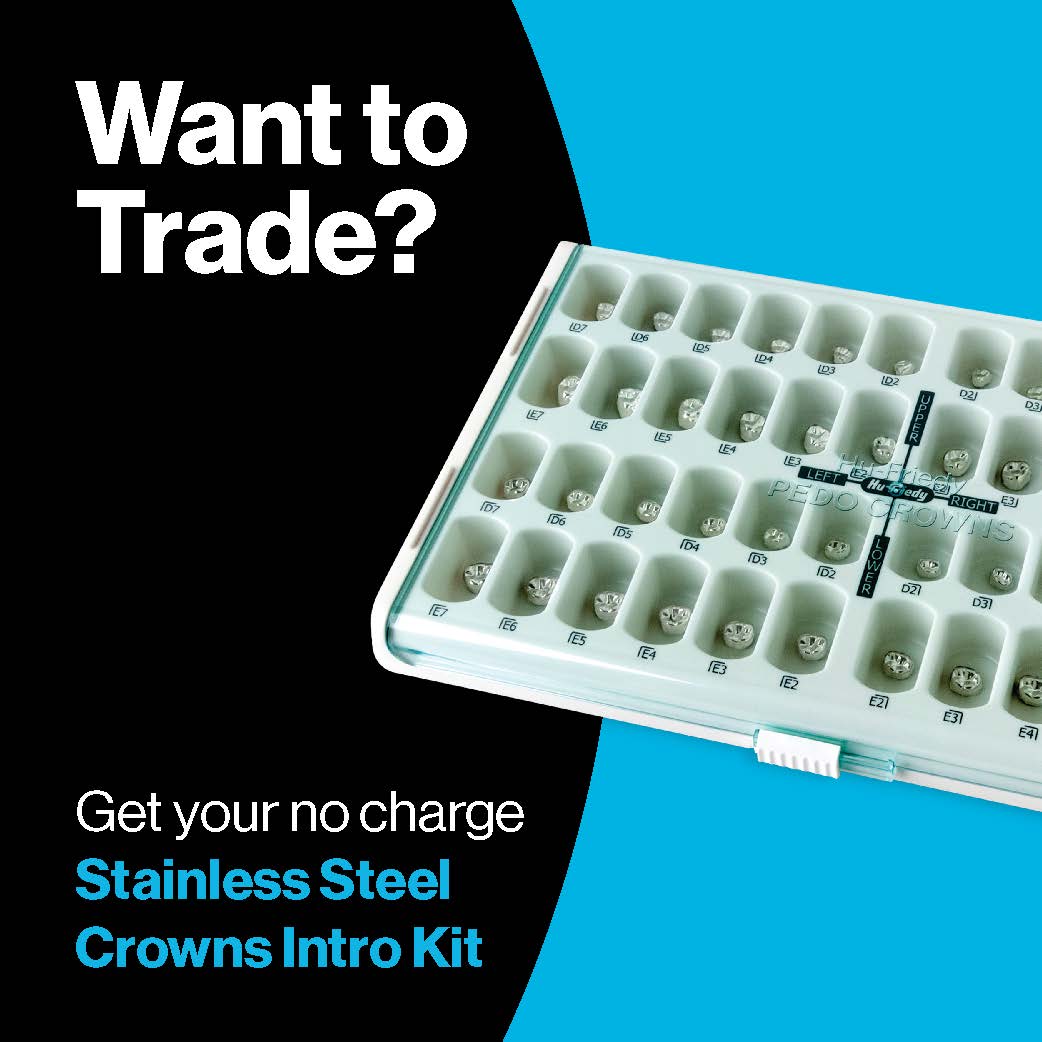 ---
CUSTOMER TESTIMONIALS
We exclusively use HuFriedyGroup Pedo Crowns for upper first molars because we find the anatomy to be much more accurate than competitors, resulting in less time required and a better clinical result.
I love the way they naturally contour to the tooth and their height is perfect!
The shorter crown height is my favorite feature since it saves time by eliminating the need to trim. It helps me create good finishing margins to allow for optimal gingival health.
---
Additional Resources
©[current-date:html_year] Hu-Friedy Mfg. Co., LLC. All rights reserved. Offer valid in the 50 United States and District of Columbia. Does not apply to school, government or institution offers. Call 1-800-Hu-Friedy or contact your authorized HuFriedyGroup representative for more information.