Blog
What do Hygienists Want in 2022... and Beyond?

How Do Hygienists Feel about the Industry, Their Jobs and What They Want for Their Professional Future?
We recently surveyed just over 900 dental professionals (92% of whom are hygienists) to find out how they feel about the industry, their jobs and what they want for their professional future.
The results reveal an incredibly dedicated group of professionals … who are still eyeing other opportunities. Despite the intense stress and burnout that marked the last two years, only 12% have left the profession (or workforce). However, at the same time, almost another third of respondents are considering a career shift.
This made us wonder,  what would keep them in their jobs? So, we asked them to rank the most important factors currently missing from their jobs … and share what the "I love it here" workplaces are doing right.
The Most Important Factors Missing From Dental Offices
At the top of the list were higher pay and better benefits. Not surprising. It makes sense to want increased compensation after risking exposure to a deadly virus, bearing the brunt of patient anger and frustration, and having to adapt quickly to fluctuating infection prevention guidelines.
Schedule flexibility was the next most important key to happy hygienists. Many of the respondents talked about family and children. They, like many of us, want the ability to have a successful career and still make time for their children. Dental professionals spoke glowingly of the dental practices who were flexible and accommodating with scheduling.
Technology, tools and educational opportunities were followed by management support and the ability to play a role in the practice.
Rounding out the bottom, only 6% of those surveyed specified proper safety measures and protocols as a missing element in their practice (we're glad to see everybody's workplaces have their safety buttoned up!)
On a scale of one to 10, the average workplace rating was 7.5. So, what earned dental practices a 10 out of 10? It came down to who they worked for … and their work environment.
Signs of a Great Boss
From the hundreds of responses, we identified three themes: supportive leadership, empathy, and competency.
Great bosses are supportive leaders
Across the board, hygienists value a boss who plays multiple roles including leader, mentor and coach. That involves good communication and even better listening skills. To them, a great boss has a high-level understanding of how the office works and leads by example. They show appreciation outwardly and practice public acknowledgement.
This was illustrated in a number of responses:
"You can be honest about what may be bothering you or you want to change. Sometimes we have to hustle to make room for patients, but she'll come back and help us clean rooms, do instruments and any end of day tasks."
"My bosses coordinate their office responsibilities together very well to make sure everyone is listened to and they follow through with good office communication."
"They both appreciate me, and tell me regularly."
Great bosses are empathetic
Hygienists also value empathy from their bosses. This was exemplified in the numerous responses highlighting how their dentist understands the importance of family. Compassion was another factor that respondents mentioned…toward patients and staff. Words like "caring," "thoughtful" and "generous." Were often referenced.
"He always says, 'family first,' and joining his team made me feel like I was part of a family."
"They support me as a working mother."
"My office is very understanding when I need to be off for family needs and my co-workers often have gone above and beyond for my family during times of hardship."
Great bosses have a high level of competency
The third major theme had to do with how much respect hygienists have for their dentists and office managers. They enjoy working for people who are intelligent and have excellent clinical skills, and they appreciate bosses who teach while they lead.
"He loves his work, is amazingly talented and, most of all, he cares about each patient unconditionally."
"He is a very well-rounded clinician and extremely knowledgeable. Not just in dentistry. He is also well-versed In alternative medicine."
Elements of a Great Workplace
Equally important to hygienists is their work environment. As with their responses about great bosses, the hygienists we surveyed said the best dental offices are those that treat them like professionals, empower their staff and foster a team environment.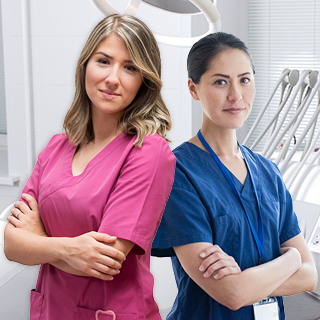 Great workplaces have a foundation of trust
Hygienists want to work in place where their education, knowledge and experience are appreciated. There needs to be a sense of trust and a regard for each other as professionals. That also means they want to work in a professional environment that is clean and safe.
"A great workplace is where I'm respected for what I do and how I contribute to the success of the practice."
"I am allotted ample time to perform treatments and can choose to lengthen them when necessary."
"My suggestions are not only welcomed but also sought out. I truly love my job."
Great workplaces empower their hygienists
Related to trust is empowerment. Hygienists clearly stated how important it was for them to be empowered to do their jobs.
Whether that relates to how much time they need to properly treat a patient or even playing a mentorship role with other staff members, empowerment is a key factor to workplace satisfaction.
"Our dentist doesn't push production and encourages me to focus on quality care and patient satisfaction."
"My boss respects my opinions and asks for my input about patient care."
"They seek my input on things regarding the office, making me feel valued for what I can offer."
Great workplaces foster a team environment
Hygienists also want to work in an office where everyone is a valued member of the team. And that teamwork translates to a feeling of inclusion and fosters friendship among co-workers. This was especially important during the pandemic when stress levels were high. The camaraderie and team spirit got many of them through that time and created strong bonds within their practices.
"My co-workers are friends I'll have for the long term and our patients are like family."
"I work with a great team that works together and supports one another. Even our patients can see this. It makes it an awesome place to work."
"I love the team work and our monthly meetings to discuss strategies."
A Glimpse Into the Minds of Hygienists
These past two years (and counting) have been a grueling test for dental professionals—and they've risen to the occasion like the heroes they are. Now, as the industry looks to a changed future, better compensation, increased flexibility and a positive workplace will result in happier hygienists—for the long-haul.