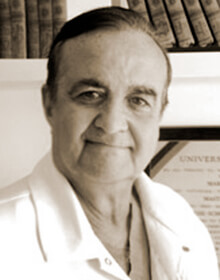 Marwan Abou-Rass
DDS, MDS, PhD
Education
University of Damascus, School of Dentistry- DDS
University of Pittsburgh - PhD
Certificate of Edodontics, MDS in Fixed Prosthodontics
Additional Information
Professor Marwan Abou-Rass is Professor Emeritus at the University of Southern California, School of Dentistry where he served as Department Chairman and Director of Advanced Endodontics from 1972–1998. He also served as Director of Prince Abdul Rahman Advanced Dental Institute (PAADI) Riyadh, Saudi Arabia from 1998–2013.
As an educator and clinician with formal specialty training in fixed Prosthodontics and Endodontics, Dr. Abou-Rass has witnessed and participated in the evolution of the current trends and concepts in microsurgical endodontics. Today's Endodontists are better trained and biologically oriented with better surgical outcomes and fewer complications.
Dr. Abou-Rass continues to make significant contributions to endodontic research, education, and clinical practice.
Literature
ABOU-RASS MICROSURGICAL BROCHURE (HF-655)