Paragraphs
Overview
Chu's Aesthetic Gauges are used for quick, accurate measurements during a crown lengthening procedure. Predictable and swift diagnosis and correction can be accomplished with a minimum amount of stress and a maximum amount of patient gratification.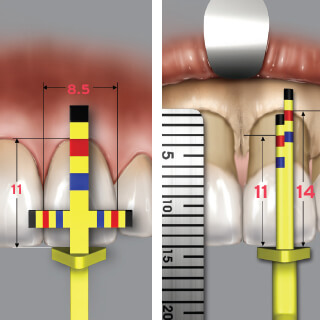 Chu's Proportion Gauge
With color-coded measurements having a predetermined ratio of about 78%, Chu's Proportion Gauge is the easiest, fastest, and most precise instrument for diagnosing tooth size and proportion discrepancies.
Chu's Crown Lengthening Gauge
With a predetermined color-coded measurement, Chu's Crown Lengthening Gauge helps achieve the proper mid-facial clinical crown and biologic crown length during crown lengthening procedure. It also helps establish the correct aesthetic position of the interdental papilla from the incisal edge before the flap is closed and sutured.
Chu's Sounding Gauge
Chu's Sounding Gauge helps provide quick, simple analysis of the osseous crest location both mid-facially and inter-dentally. Used in aesthetic and surgical crown lengthening procedure to determine the bone level before reflecting the flap. Curvature of the tip makes sounding easier, faster and more predictable.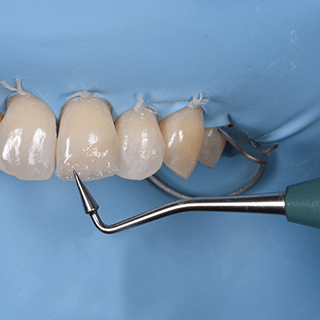 ABOUT DR. CHU
Stephen Chu maintains an academic appointment in the Ashman Department of Periodontology and Implant Dentistry at New York University College of Dentistry as Clinical Associate Professor. He also has a private practice in fixed prosthodontics, aesthetic, and implant dentistry in New York City. Dr. Chu has published over 40 peer-reviewed articles in the dental literature and has given lectures nationally and internationally on the subjects of esthetic, restorative, and implant dentistry. Dr. Chu is on the editorial review board of several peer-reviewed dental journals. He is the recipient of the Peter Scharer distinguished lecturer award from the European Academy of Esthetic Dentistry.
Learn More About Dr. Chu