High Definition Black Line Mirrors

See Your Patients, Not Your Instruments

Designed for enhanced performance, Hu-Friedy's HD Black Line Mirror is engineered to optimize clinical outcomes by delivering superior visibility throughout any dental procedure. The Diamond Like Carbon (DLC) coating of the handle and mirror frame reduces glare up to 80%!* The durable black matte finish in combination with the superior brilliance and color of Hu-Friedy's proprietary HD Mirror glass facilitates quicker and more accurate visibility of the mouth.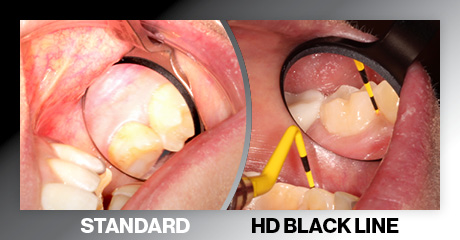 ---
Points of Performance
DIAMOND LIKE CARBON (DLC) COATING
The durable black matte coating reduces the glare by up to 80% compared to a standard metal mirror head and handle.* This helps to reduce strain and fatigue as the user does not need to adapt their viewing position due to unwanted shine.
 
ENHANCED CONTRAST & VISUAL ACUITY
The black color of the coating creates a distinct contrast between the instrument, the tooth and/or the surrounding tissue allowing for easy identification intraorally.*
 
SUPERIOR BRILLIANCE & COLOR
HD Mirror provides superior brilliance and color for quicker and more accurate visibility of the mouth. †
113% reflection factor for exceptional image clarity. †
38.5% brighter than rhodium coated mirror glass. †
50% brighter than other front surface mirror glass. †
 
ERGONOMIC HANDLE
The large diameter handle increases control, provides maximum comfort and reduces hand fatigue, creating an ergonomically friendly handle option.
---
Testimonials

"The HD mirrors themselves provide a high reflection factor, which gives exceptional image clarity, and they are much brighter than other common mirrors."
Kristin Hohman
Dental Economics
---
Products Available
---
Resources
*When comparing the Hu-Friedy DLC coated mirror head and handle to the Hu-Friedy non-coated stainless-steel mirror head and handle. Data on file and available upon request. † Data on file and available upon request.