Blog
Masks & Respirators: Understanding Your Options

Reviewing Mask Options, Standards, and Features as the Post-COVID World Comes into View
The COVID-19 pandemic reinforced both the risks to which hygienists and their colleagues are exposed every working day, and the critical role masks and respirators play in mitigating those risks.
Throughout the pandemic, PPE guidelines from the US Centers for Disease Control and Prevention (CDC) and the Occupational Safety and Health Administration (OSHA) have evolved along with our understanding of how the coronavirus that causes COVID is transmitted. PPE and supply shortages have necessitated rule changes, as well.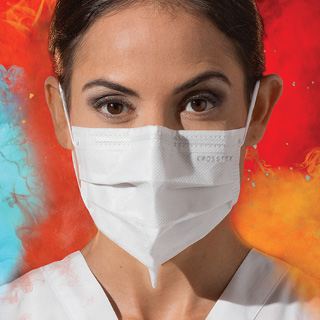 As more of the population gets vaccinated, more guideline adjustments regarding masks and respirators may be on the horizon.
We've already seen some changes as a "new normal" sets in in the dental field. In April 2021, the US Food and Drug Administration (FDA) recommended that health care organizations start moving away from "crisis capacity conservation strategies," such as decontaminating and reusing disposable respirators. That means reverting back to CDC guidelines and standard precautions, which call for discarding masks or respirators after each patient.
Additionally, in May 2021, the FDA recommended limiting use of all non-NIOSH-approved respirators, including imported respirators, such as KN95s. Many practices have been using KN95s based on the existing emergency use authorizations, but these types of respirators should be avoided moving forward in favor of NIOSH-approved N95s that are replaced after each patient.
UPDATE: On June 30, 2021, the FDA revoked the Emergency Use Authorization for non-NIOSH-approved disposable respirators. Additionally the FDA now recommends a new disposable respirator should be worn for each new patient contact.
At the beginning of the COVID-19 pandemic, when PPE shortages were at their worst, many dental practices had to settle for whatever masks or respirators they could get their hands on. Now, you can afford to be a bit choosier.
With changes in guidelines, new variants emerging, and mask supplies back to pre-pandemic levels, now is a good time to review the types of masks and respirators available for use in dental settings and when to choose each option.
Surgical Masks
Surgical masks offer their wearers varying degrees of protection from the environment. But unlike N95 respirators, surgical masks do not form a tight seal between the edges of the mask and the wearer's face. However, Crosstex™ Masks that feature Secure Fit™ Technology do provide flexible aluminum nose and chin strips that help to eliminate gaps around any face shape, providing some additional protection within their filtration level.
Prior to the COVID-19 pandemic, surgical masks were considered appropriate protection against spray and aerosols, except when the patient was known to have an infectious disease such as tuberculosis.
Current CDC guidelines (as of this writing) state that dental health care providers should wear surgical masks during procedures likely to generate splashing or spattering of blood or other bodily fluids along with eye protection (goggles or a face shield that covers the front and sides of the face), a gown or protective clothing, and gloves. However, in areas where community transmission of the coronavirus is moderate to substantial, dental professionals should choose N95 respirators or their equivalent, the CDC says.
The standards organization ASTM International developed the universally recognized filtration scale that describes a surgical mask's fluid protection level.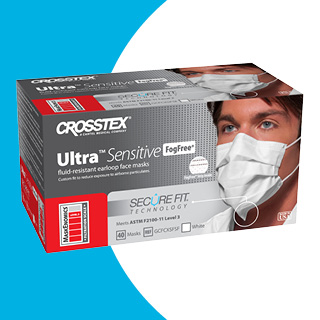 When selecting from among the different levels of surgical mask, keep in mind that every procedure is unique. Use your clinical judgment to determine the appropriate protection based on the length of the procedure, the amount of fluid aerosol, and, as stated above, the level of COVID transmission in your area.
N95 Respirators
The FDA defines an N95 respirator as "a respiratory protective device designed to achieve a very close facial fit and very efficient filtration of airborne particles." The critical feature of an N95 respirator is the tight seal it forms around the nose and mouth. The National Institute for Occupational Safety and Health (NIOSH) sets specific standards that manufacturers must comply with and tests respirators before awarding the N95 designation.
As we pointed out above, there are two kinds of N95 respirator: those used in industrial settings and surgical N95 respirators. For the time being, non-surgical N95 respirators have been granted emergency status for use in health care, but be aware that this is only temporary. When available, surgical respirators offer the highest level of protection when treating patients with airborne diseases.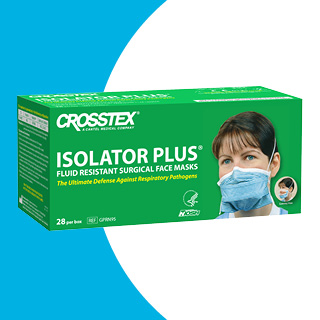 To qualify for FDA approval as a surgical N95 respirator, a respirator must be fluid resistant. The Crosstex™ Isolator™ Plus N95 Surgical Respirator has demonstrated resistance to penetration by synthetic blood at pressures of 160 mmHg. The Isolator Plus Respirator offers a particulate filtration efficiency at 0.1 microns of 99.9%.
Note that as per OSHA standards, if the use of a respirator is necessary to protect the health of employees and required by the employer, the employer must establish and implement a written respiratory protection program. Additionally, dental personnel must be medically cleared for respirator use prior to use and must undergo fit testing before gaining clearance to use specific respirator models.  An additional fit test is required if a new respirator model is employed or whenever the employee reports, or the employer makes visual observations of, changes in the employee's physical condition that could affect respirator fit.
Added Features to Look for in Masks and Respirators
Just because two models of a mask share the same ASTM Level, it does not mean they are equal in quality. Certain features can help make masks more comfortable for wearers or improve their performance (and therefore, boost patient and practitioner safety).
Some surgical mask features to look for include:
Secure Fit™ Technology, exclusive to Crosstex ASTM-rated masks. Secure Fit Technology's patented design features flexible aluminum nose and chin strips for a customized fit that eliminates dangerous gaps around any face shape. Independent laboratory testing has confirmed that Secure Fit Technology offers superior protection when compared to standard earloop masks.
FogFree™ Masks include a strip on the inner layer that prevents glasses and eye protection from fogging up and obscuring the vision of hygienists and dentists. Crosstex ASTM Level 1 and 3 masks can be purchased with the FogFree feature.
Sensitive masks for sensitive skin. Some masks include hypoallergenic inner layers that are less likely to cause irritating allergic reactions. This feature helps people who have sensitive skin but nonetheless must wear masks for hours each day.
Color options. Colors can do more than make masks look nice. Color cues can help dental professionals quickly differentiate between ASTM levels, which increases efficiency and aids with compliance – especially in larger practices.
Lastly, like surgical masks, surgical N95 respirators can come in many shapes and constructions, from molded/cone styles to flat-fold styles. While the former styles are heavily utilized in industrial settings, the latter are popular in healthcare settings because of their enhanced comfort.  Most importantly a style should be chosen that allows the user to pass a fit test. For this reason and because of the diversity in user face shapes and sizes, it's always a good idea for an office to have a couple of options on hand during fit testing.
There are many, many aspects of life and work during the COVID-19 pandemic we will all be glad to move on from. But one thing we hope persists is an appreciation of the critical role masks and respirators play in infection prevention and control – for dental practitioners and their patients.
The risk of COVID infection may eventually fade, but other diseases from the common cold to the flu are still out there. By stocking your dental practice with high-quality, compliant masks and respirators, you can do your part to keep your patients, colleagues, and community safe.
All company and product names are trademarks of Hu-Friedy Mfg. Co., LLC, its affiliates or related companies, unless otherwise noted.