Blog
Water Testing Best Practices

The Future of Dental Unit Waterlines
With the state of Washington changing its dental waterline testing requirements as of Dec. 1, the writing is on the wall: Scrutiny around waterline quality is tightening and the monitoring of procedural water in dental practices must be considered part of regular dental infection and prevention control office practices.
Regardless of where your practice is located, all dental professionals have an obligation to ensure that their treatment water meets current potable water standards.
Do Your Waterlines Meet Microbiological Water Quality Standards? The Only Way to Be Certain Is to Test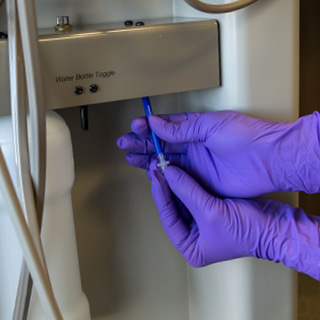 The U.S. Centers for Disease Control and Prevention (CDC) and the American Dental Association (ADA), have been speaking about the importance of waterline testing for years. They all agree that the water used for dental treatment should contain no more than 500 colony-forming units of bacteria per milliliter (CFU/mL). And for good reason: Contaminated water can put staff and patients at risk – especially the elderly and immunocompromised.
Long, dark, moist, and narrow dental waterlines create the perfect breeding ground for microbial growth. Several troubling episodes from around the world demonstrate what can happen when microorganisms colonize dental unit waterlines.
A few years ago, a series of Mycobacterium (NTM) infections in pediatric patients in Georgia and California following pulpotomies (baby root canals) were connected with the presence of bacteria in dental unit waterlines. Fatalities from Legionnaires' disease were traced to dental clinics in Sweden and Italy.
Waterline testing at the pediatric clinics following the linked illnesses revealed bacterial levels far exceeding acceptable levels in the dental treatment water.
To protect their patients and comply with the CDC and state agencies' guidelines, most dental practices regularly treat their waterlines to keep microbial growth at bay. There are multiple effective treatment protocols to choose from, including continuous use, periodic use, and filtration systems that introduce germicides into treatment water.
However, treatment alone cannot provide the assurance dental practices need to be confident that their treatment of choice is working as anticipated. Often, water treatment methods can fail due to user error (such as misreading or incorrectly following accompanying Instructions for Use).
The only way to be sure your dental unit waterlines meet the current standards is to test them routinely.
Testing Guidelines for Dental Unit Waterlines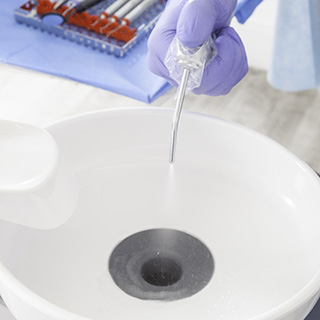 The CDC's guidance on dental unit water testing does not get into specifics: "Consult with the dental unit manufacturer for appropriate water maintenance methods and recommendations for monitoring dental water quality."
States, like Washington, have developed more prescriptive legislation regarding regular water quality testing based on dental equipment manufacturer's instructions or quarterly in the absence of manufacturer instructions; testing following repairs or plumbing changes, and maintaining post-testing documentation. More states will likely follow Washington's lead.
In 2018, the Organization for Safety, Asepsis and Prevention (OSAP) released a white paper on dental unit water quality. The organization's recommendations were designed to help dental health care personnel meet or exceed the CDC's water-quality standards.
On testing, the OSAP white paper states:
Water quality testing should be performed at least monthly on each dental unit following the installation or the start of new protocols.
If the results are acceptable two months in a row, the frequency may be reduced to no less often than once every three months.
If the results reveal unacceptable contamination levels, the unit should be treated and retested immediately after treatment.
According to the OSAP white paper, dental units should also be tested:
Following the installation of new equipment,
After initiating new water treatment protocols,
After extended periods of disuse or lack of maintenance,
Following changes to the manufacturer's instructions,
And after maintenance or repairs to the unit.
How to Test Dental Unit Water Quality
OSAP discusses two forms of dental procedural water monitoring: laboratory services and in-office chairside kits.
In-office tests are administered by gathering a water sample using a liquid-absorbing paddle. The sample is then incubated for a set period. At the end of the incubation period, the tester counts the bacterial growth appearing on the paddle. The use of in-office paddle tests can typically be done more frequently, OSAP notes and may help detect early warning signs of biofilm buildup.
While in-office tests are a useful early warning measure, they're more prone to inaccurate results due to human error. These errors can occur if the paddle is mishandled during any point in the testing process or if the tester miscounts the bacterial growth.
Laboratory testing, on the other hand, "can provide more accurate counts than in-office test kits and provide better baseline measures and an external validation of in-office monitoring programs."
Dental unit waterline treatment and testing are important steps to ensuring that you are providing a safe visit for your patients. There are so many different treatments and testing options available that it can be confusing. If you would like assistance navigating your way, please contact the water team at HuFriedyGroup: