Blog
Reviewing Best Practices for Hand Hygiene

Answering Your Most Frequently Asked Questions
Hand hygiene has always been a critical part of infection prevention in health care settings, and the experience of living and working through a pandemic has only underscored its importance. However, despite the extra attention on infection prevention, the CDC reports that, "on average healthcare providers clean their hands less than half of the times they should."
While hand hygiene is a routine part of everyone's day, it can be useful to reevaluate that routine on a regular basis to ensure procedures are safe and compliant. World Hand Hygiene Day, which is celebrated annually on May 5 to encourage healthcare professionals to achieve effective hand hygiene at the point of care, is a good opportunity to review best practices when it comes to hand washing and antisepsis. Use this FAQ below to reassess your hand hygiene practices.
What Makes Hand Hygiene So Important?
In its 2016 Summary of Infection Prevention Practices in Dental Settings, the CDC states that "Hand hygiene is the most important measure to prevent the spread of infections among patients and DHCP [Dental Health Care Professionals]." That's because hand hygiene can substantially reduce the microorganisms that live on your skin, which are associated with healthcare related infections.  These pathogens are easily spread and can be acquired during routine contact with patients or contaminated surfaces.
When Should I Perform Hand Hygiene?
According to the latest Interim Guidance for Dental Settings from the CDC, hand hygiene should be performed "Before and after all patient contact, contact with potentially infectious material, and before putting on and after removing personal protective equipment (PPE), including gloves." The CDC further emphasizes the importance of hand hygiene after removing PPE to ensure that pathogens are not transferred from the contaminated PPE to bare hands.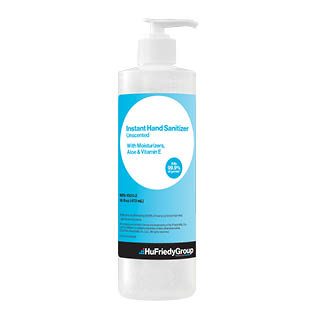 When Should I Wash My Hands and When Can I Use an Alcohol-Based Hand Rub (ABHR)?
Dental healthcare professionals should use soap and water when hands are visibly soiled with contaminants like blood or body fluids, before eating, and after using the restroom. Otherwise, alcohol-based hand rubs are generally preferred in most situations as they are more effective at killing pathogens and are easier to use throughout the course of the day. Additionally, they are generally less irritating to the hands.
What Are the Steps for Proper Hand Washing?
According to the CDC's Guideline for Hand Hygiene in Healthcare Settings, total handwashing time should not exceed one minute, but should be at least 15 seconds. While some entities recommend hand washing for at least 20 seconds, the focus should be on following the right procedures and washing at the right time. Our Hand Essentials™ Hand Care Guide walks through each step:
Turn on water to a comfortable temperature to moisten hands and wrists.
Apply soap using an amount of product recommend by the manufacturer.
Generate heavy lather and wash well for about 15 seconds, paying particular attention to areas between the fingers, around nail beds, under fingernails, and back of hands.
Rinse well under soaking water, keeping hands low in the sink to prevent splashing.
Hold hands so the water flows from wrist to fingertips.
Dry hands completely with a clean disposable towel.
Use the disposable towel to turn off the faucet so your hands remain clean from any contaminants that may be on the faucet.
What Are the Steps for Applying Alcohol-Based Hand Rubs?
When using an ABHR like the new HuFriedyGroup Instant Hand Sanitizer, it's essential that it is only rubbed into dry hands or it may not be fully effective:
Rub backward and forward with clasped fingers of the right hand in the left palm and then with clasped fingers of the left hand in the right palm. Thoroughly work the hand rub under nails and into cuticles.
Rub hands palm to palm, including wrists.
Rub the right palm over the left back of hand with interlaced fingers and then the left palm over the right back of hand with interlaced fingers.
Rub palm to palm with fingers interlaced.
Rub the tops of fingers to the opposing palms with fingers interlocked.
Use a rotational rubbing motion of the left thumb clasped in the right palm and then of the right thumb clasped in the left palm.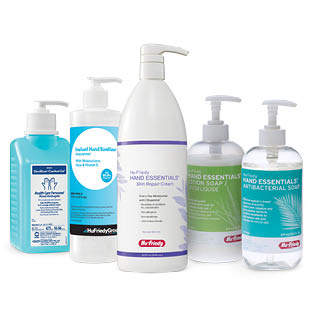 Why Is It Important to Use Hand Lotion?
Moisturizing isn't just about maintaining smooth, attractive skin. It's a necessary strategy for fighting infection because heavy hand washing can damage skin, leaving it dry and cracked and creating the conditions for bacterial growth. Using a therapeutic cream can help restore the skin's natural moisture barrier while delivering necessary nutrients to the skin.
It's important to choose a moisturizer designed specifically for dental professionals, like the Hand Essentials™ Skin Repair Cream, because using the wrong type of moisturizer can damage gloves, making them less effective.
What About Fingernails?
The CDC recommends keeping natural fingernail tips less than ¼ inch in length and advises against the use of artificial fingernails entirely.
Are There Any Other Resources I Can Reference?
The CDC provides a wealth of resources to learn more about hand hygiene and how it relates to overall infection prevention and control:
All company and product names are trademarks of Hu-Friedy Mfg. Co., LLC its affiliates or related companies, unless otherwise noted.