Blog
Six Myths About Surgical N95 Respirators

Dispel These Six Common Myths Surrounding N95 Respirators
Almost the entirety of the population has spent the last two years wearing masks to prevent exposure to COVID-19 and its variants.
They've also spent the last two years hearing conflicting information and strong opinions about masks, including surgical N95 respirators.
To some degree, the public taking personal protective equipment (PPE) seriously is a good thing: Many people now appreciate the importance of infection prevention.
However, the initial mask-buying frenzy depleted supplies. This forced the Food and Drug Administration (FDA) to publish interim guidelines that allowed the types of masks and respirators that could be worn to treat patients in a dental setting as well as allow for extended use and decontamination. At the time, the goal was to make sure there was at least some type of PPE available for use during procedures to provide some level of protection to healthcare workers.
Now that supply and demand are back to manageable levels, those interim guidelines have been rolled back and dental professionals are, again, required to use appropriate PPE while treating patients as well as to change them out with each new patient contact.
And that's where we see quite a bit of confusion and variant practices.
To help ensure that there are no misconceptions in your office, we've addressed the six most common myths about N95 respirators – and specifically, surgical N95 respirators.
Myth #1: General population guidelines also apply to healthcare settings  
New Centers for Disease Control and Prevention (CDC) guidelines have recently been published that relax many of the restrictions that were in place for the general public throughout the pandemic. That does not mean those guidelines apply to healthcare as well. 
Transmission rates still apply in healthcare settings. 
According to the CDC, "…new COVID-19 Community Levels recommendations do not apply in healthcare settings, such as hospitals and nursing homes. Instead, healthcare settings should continue to use community transmission rates and continue to follow CDC's infection prevention and control recommendations for healthcare settings."
In dental settings, specifically, the CDC published additional guidelines for consideration, that include:
Consulting state dental boards and state or local health departments for the most up-to-date information, recommendations and requirements based on community-level transmission rates.
Postponing all non-urgent dental treatment for patients who have tested positive for COVID-19 and those who are in quarantine.
Performing dental treatment in individual patient rooms where possible, and at least six-feet apart with physical barriers in open floor plans.
When performing aerosol generating procedures, ensure that the clinician correctly wears the recommended PPE (including a NIOSH-approved N95 or equivalent or higher-level respirator in counties with substantial or high levels of transmission) and use mitigation methods such as four-handed dentistry, high evacuation suction, and dental dams to minimize droplet spatter and aerosols.
Myth #2: Surgical N95 respirators are the same as ASTM Level 3 masks
As stated above, the CDC stipulates that dental professionals should wear surgical N95 respirators when treating patients with airborne diseases and in counties COVID-19 transmission rates are 'substantial' or 'high.' Surgical N95 respirators. This is especially critical for aerosol generating procedures that use ultrasonic scalers, high-speed dental handpieces, air/water syringes, or any other such tools.
Those surgical N95 respirators must meet NIOSH and FDA standards for user fit, fluid resistance, filtration and exposure control.
However, many dental professionals still use ASTM Level 3 Masks for all dental procedures. They may even use them in communities where COVID-19 transmission rates remain 'substantial' or 'high.' That is a problem.
ASTM Level 3 masks are not the same as surgical N95 respirators and do not provide the same protection for patients or your team.
Your practice must keep enough surgical N95 respirators in stock and your team needs to know to wear a surgical N95 respirators for aerosol generating dental procedures if COVID-19 transmission remains high in their communities.
Even in counties where transmission rates are low, it makes sense for dental offices to maintain the same rigorous infection prevention and control practices, if for nothing else, to reduce the risk of spreading any other infection.
Myth #3: KN95s and KF94s are interchangeable for surgical N95 respirators
Another common misconception is that KN95s and KF94s are suitable replacements for surgical N95 respirators. Again, this is because it was previously acceptable to wear them for emergency use during the pandemic.
The fact is KN95 and KF94 respirators don't have to meet the same requirements that surgical N95 respirators do, and they don't provide the same protection.
A major reason is that KN95s and KF94s have ear loops, which can create gaps around the face and increase exposure. To meet the level of protection required by NIOSH and the CDC, the mask must have a tight seal and be fit tested in accordance with OSHA requirements.
Effective July 6, 2021, KN95s are no longer authorized for use by health care personnel in health care settings by the Food and Drug Administration (FDA).
Myth #4: All N95s fit the same
Just because you're wearing a surgical N95 respirator doesn't mean it's automatically working.
When it comes to infection prevention, fit does matter. According to the CDC, "a poorly fitting or improperly worn respirator or mask may reduce its intended benefit."
To ensure your team is getting the best protection from their surgical N95 respirators, they are required to undergo a fit test to determine which design best fits their face.
CDC mask fitting guidelines include two requirements:
The respirator should collapse slightly while inhaling.
There should be no gaps or leakage around the face and under the chin while exhaling.
In addition, respirators should be subject to a fit test to make sure that no contaminants seep through in either direction. That test is called a Qualitative Fit Test and performed using either a Saccharin or Bitrex® solution that is introduced as a fine mist to the air just outside the respirator using a nebulizer and test hood. To pass the fit test, the mask wearer should not be able to detect either solution while performing a number of different exercises. Qualitative Fit Testing is affordable and can be performed in-office by staff members.
Another option is Quantitative Fit Testing, which can be performed by a 3rd party or with an investment in the proper equipment to achieve a passing fit score of 100 or more of a possible 200. This testing measures the quantities of particulates that leak from the environment into the mask.  
Myth #5: Surgical N95 respirators are uncomfortable.
A common complaint about surgical N95 respirators is that they're uncomfortable. Specifically, that the respirator is tight and makes it difficult to breathe.
Actually, both complaints are signs that you aren't wearing the right mask to fit your face. Not all faces and heads are shaped the same, so one mask design won't fit every face.
At HuFriedyGroup, we offer three, made-in-the-USA  respirator designs to help you "Find Your Fit":
The NEW Crosstex™ Isolator™ Duckbill Surgical N95 Respirator has a flat-fold, duckbill design with dual head straps and a malleable nose piece for the best filtration, fit and comfort. It is NIOSH-approved for use when treating patients with airborne diseases and meets the guidelines for TB exposure control.
In addition, this new surgical N95 respirator complies with the new NIOSH commissioned, ASTM F3407 – Respirator Fit Capability Standard that is currently voluntary for surgical N95 respirator manufacturers but may soon become required.
A surgical N95 respirator that passes this standard is more likely to fit a larger population of working adults, which would reduce the number of styles a practice needs to keep on hand. It would also reduce the amount of fit testing required, since the respirator would be a better fit for more people.
This surgical N95 respirator is perfect for anyone who finds surgical respirators to be claustrophobic or make breathing difficult. The duckbill shape creates space between the wearers mouth and nose and the mask itself. Fit correctly, the wearer can breathe easily while minimizing the risk of infection or exposure.
The NEW Crosstex™ Isolator™ Molded Surgical N95 Respirator offers among the highest level of fluid resistance. Featuring a durable, collapse-resistant double-shell design, the Isolator Molded Surgical Respiratoris also NIOSH-approved for use when treating patients with airborne diseases and meets the guidelines for TB exposure control.
The Crosstex™ Isolator™ Plus Surgical N95 Respirator has a classic flat-fold, chin-pocket construction that provides increased comfort. It has malleable nose and chin pieces that allow the mask to be fit to a variety of face shapes and sizes..
Myth #6: I don't need to change my surgical N95 respirator after every patient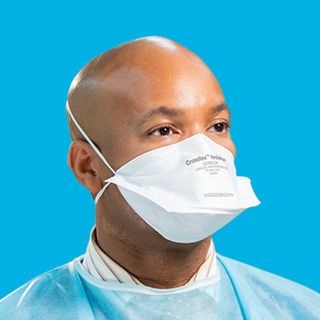 Another practice that was considered acceptable during the pandemic (if necessary) was to use a surgical N95 respirator multiple times. This is no longer appropriate.
The CDC requires the removal and discard of facemasks or NIOSH-approved respirators used during aerosol generating procedures. Before caring for another patient, a new surgical N95 respirator should be donned.
There is a good reason for this: Single-use surgical N95 respirators limit cross contamination.
If the treated patient has an infection or virus of any kind, it will likely make its way onto the outside of the respirator during a procedure, contaminating the mask. Using the mask again exposes the next patient to this infection or virus.
Donning and removing respirators
Cross contamination increases considerably when surgical N95 respirators are improperly donned or removed. The CDC recommends that dentists and hygienists don surgical N95 respirators before any contact with patients—preferably before entering the exam room. They should be removed and discarded carefully, followed immediately by hand hygiene.
Another reason for single-use respirators has to do with wear. While masks provide protection, they also wick moisture. The longer you wear a mask, the less protection it will provide.
To review, PPE requirements for healthcare professionals are based on transmission rates, they must wear surgical N95 respirators that are fitted to their faces, and they must replace those surgical N95 respirators after every patient. The best way to dispel these myths is to make sure everyone in your dental practice understands and follows appropriate guidelines to protect themselves and your patients.
To learn more about our surgical N95 respirators and fit test kits, visit https://www.hufriedygroup.com/products/categories/n95-respirators-fit-test-kits-7972