Blog
How to Approach Biological Monitoring

Learn About the Three Primary Options
Dental instrument sterilization has always been a priority for dental practices, but the pandemic further highlighted the need to protect patients and staff from disease and infection. Instrument sterilizers play a critical role in maintaining infection prevention, which means they must always be in good working order.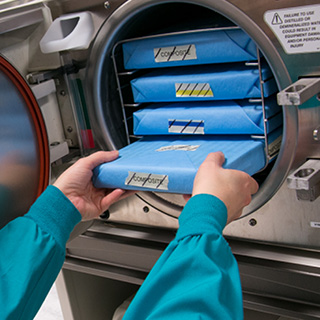 Per CDC guidelines, biological monitoring or spore testing should be conducted and recorded at a minimum of once per week to ensure that sterilization equipment is performing as needed. In addition, spore testing results should be kept for as long as each individual state requires. In most states, that timeframe is three years.
You have three primary options to perform spore testing. Each has its advantages and appropriate application; however, one is most often recommended because it instills more confidence among dental professionals and facilitates best practices. Let's take a look at each option.
In-Office Testing
In-office spore testing involves using prepackaged kits for testing. This approach is beneficial because it delivers test results almost immediately – within 10 to 24 hours. In-office testing provides the reassurance that a sterilizer is working as it should, and it allows you to record proof that you've conducted weekly testing should an audit take place.
One prevalent myth about in-office testing is that it's complicated and difficult to perform, causing some practices to shy away from using them. That's simply not true.
In fact, HuFriedyGroup has developed a series of informational videos, posters, and step-by-step instructions that clearly detail how to conduct in-office testing, making it easy to perform. Even interpreting the results is simplified down to color indicators, making that part of the process straightforward.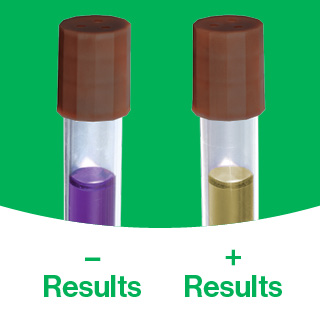 In-office spore testing products from HuFriedyGroup include the ConFirm™ 10 Steam Biological Indicators, self-contained in-office monitoring tests that deliver results in 10 hours. Interpreting results is as simple as observing the test vial after incubation. If it remains purple, the test is a pass. If it turns yellow, the test has failed.
Mail-in Lab Testing
The benefit of using mail-in testing is that it is performed by a third-party laboratory of experts who evaluate and interpret tests and provide precise results.
HuFriedyGroup offers the ConFirm™ Premium Mail-in Biological Monitoring Service, the most comprehensive mail-in service in health care, which offers a host of important features:
Results in 24 hours for steam, 72 hours for chemical vapor, and seven days for dry heat and EtO from the start of the incubation period at the processing laboratory.
Choice of immediate test failure notification by fax or email with a courtesy call the next day from a clinical adviser to help troubleshoot and provide guidance.
Complimentary reminder service that notifies practices of missed test dates by either fax or email.
Comprehensive test results that are sent quarterly and annually by fax or email.
Spore strips with highly resistant dual-species bacterial spores provide the most reliable method of testing for an effective sterilization cycle.
Dental practices tend to feel more confident using third-party spore testing because it provides a level of accuracy that can be documented as proof of compliance. And because the ConFirm™ Biological Monitoring service includes an online recordkeeping component, proof of testing and subsequent results are easily accessible.
Hybrid Testing
The last option for biological monitoring is what we recommend: A hybrid of both in-office and mail-in testing.
Here's why.
When you use a third-party spore testing solution, you receive clinical confirmation that your instrument sterilizers are working properly. However, if your practice has a high volume of patients, only using a mail-in approach to testing can create an issue:
If you see a large number of patients weekly, the instrument sterilizer is being used much more often than in a less busy practice.
In addition, the number of instruments being used is far greater. If you cannot confirm the efficacy of its equipment at the pace of instrument usage, patient safety could be called into question.
Further, if a sterilizer's spore test fails, the equipment can't be used until the issue causing the failure is resolved.
This increases overall instrument reprocessing time, limits the number of instruments available at a given time and ultimately reduces productivity.
By using a hybrid approach – where mail-in testing is performed on a monthly basis and in-office testing is performed weekly or more often, as needed – you can have more immediate peace of mind and documentation that you're providing the safest environment for your patients.
Another factor to consider that justifies a hybrid approach is that dental offices will inevitably be held to many of the same standards that exist in health care facilities.
A Hybrid Approach Sets Your Practice Up for Future Change
Many health care facilities perform spore testing per load – every time instruments are placed in the sterilizer. Dental practices are not required to perform spore testing this frequently, but they may need to do so in the future as stricter guidelines are published and the industry shifts.
As a dental professional, you may want to adopt more frequent biological monitoring practices in anticipation of this change. If nothing else, it will help with infection prevention best practices.
Biological Monitoring Documentation
Documenting protocols is critical to ensuring consistency. As stated earlier, mail-in spore testing services from HuFriedyGroup include an online documentation portal that tracks detailed testing results and frequency.
It's also wise to keep records internally, especially pertaining to in-office testing. Again, if your state dental board were to audit your office, you'll need to produce records proving that all instrument sterilizers comply with CDC and state guidelines. Make sure to use a booklet like  ConFirm™ Record Keeper Booklet to track all results.
To learn more about biological monitoring products from HuFriedyGroup, visit HuFriedyGroup.com.